​

Case study with Dominick Kennerson, Head of Pharma Health Policy Regions Americas, for Bayer Pharma.
epresspack had the pleasure of attending the International Association of Business Communicators (IABC) 2018 World Conference held in Montreal, from 3-6th June. The theme of the event this year was 'The Communications Crossroads,' alluding to the unique position of the communications industry at the crossroads of 'business, culture, functions and audience.' The 4-day event was an ideal opportunity to glean some great insights from recognized industry experts during keynote speeches and informative panel discussions, as well as meet and network with others in the PR and communications profession.
epresspack was fortunate to be at the heart of the action during one of the breakout sessions, where CEO Antoun Sfeir was joined by guest speaker Dominick Kennerson, both traveling from Paris and Berlin respectively to attend the event. Dominick is Head of Pharma Health Policy Regions Americas, for Bayer AG, a 150+-year-old German pharmaceutical company based in Berlin. As part of his work, Dominick engages in 'corporate diplomacy', yet as a digital native, he has been key in adding gravitas to the firm's digital communication capacity. His background includes multi-sectoral views of patients, healthcare systems, finance & investing, and policy.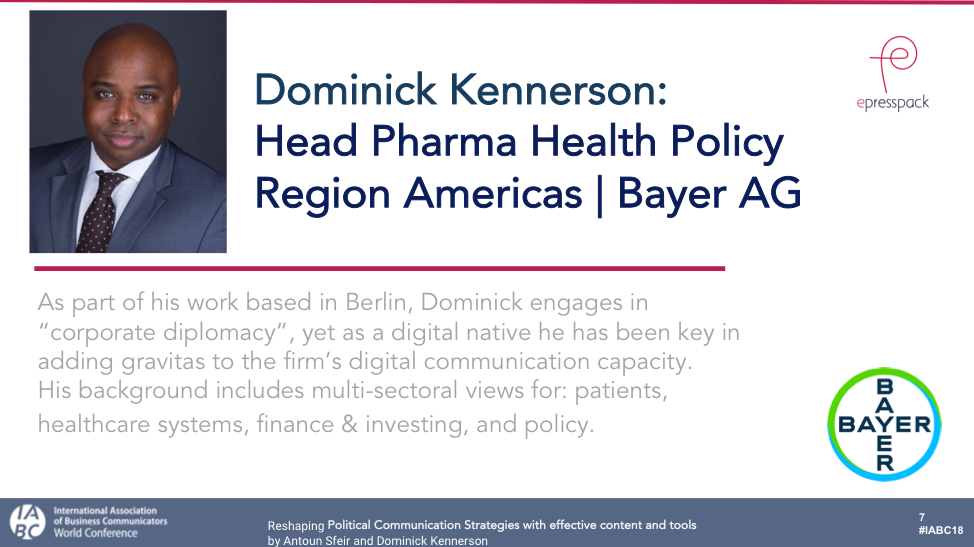 As part of the session, Antoun invited Dominick to share the stage, addressing the changing landscape of the communications industry in the wake of digitalization. As Antoun noted at the beginning of the session, 'We have to review our strategies in order to attract internal and external attention, rethinking our approach is key.'
Dominick began by delving into his own relationship with technology and the digital explosion he witnessed first-hand. As a teenager, he remembered seeing AOL Co-founder Steve Case frequently on the front of the Washington Post and watching the rapid growth of America Online. Years later, he ended up working with Steve as part of Revolution Health when he was introduced to 'Cluetrain' thinking -- the 'think big, start small, scale fast' approach. The Cluetrain Manifesto, popular around 1999-2000, marked the end of business as usual; markets were being redefined as conversations. A personable, genuine and unscripted approach to the market was now the norm; conversations were taking place, not just business. While these ideologies may date back to the digital growth era between 1996-2000, they are wholly applicable today and were the key concepts that needed to be unlocked at Bayer.
Dominick moved on to speak specifically about digital stakeholder engagement in policy. As he pointed out, for a pharmaceutical company like Bayer, policymakers can have an enormous effect on their business -- one damaging digital interaction can cause company value to plummet. Engagement with online stakeholders affords humanization and transparency to an industry that may sometimes lack personal appeal. Dominick was passionate about sharing Bayer's values through more organic, unscripted conversations and enhancing their digital relationships online -- 'People don't know that a company like Bayer even has values, let alone what they are.' The challenge? Implementing a forward-thinking engagement strategy into a highly-matrixed German company. As Dominick noted, the U.S is ahead when it comes to forward-thinking digital concepts and relationships.
Dominick set out to transfer his digital communications expertise to his team and developed a comprehensive strategy to convey how exchanges online with policymakers would come to fruition. Using Barack Obama as the example persona, he envisioned a 'crawl, walk, run' approach to targeting online stakeholders with a view to starting small but scaling fast. He pulled up a real-life example of an exchange that had taken place on his personal twitter account, where he implemented his strategy to successfully converse with an international stakeholder, securing a potential meet-up further down the line. What Dominick was trying to get across to the audience, was that these types of exchange are not only possible but necessary for a company with a more formal digital approach. He also wanted to open up the realms of possibility when it came to content production and distribution; there was a wealth of material that Bayer could be creating and posting to reach their audience.
And that's where epresspack entered the equation. The several yearlong relationships between Bayer and epresspack is continuing to strengthen and evolve, as we push forward to create more innovation and opportunity. Our Newsroom Content Management Solution has helped Dominick and his team create, publish, manage and distribute content from one fully integrated platform, tailored to their needs. Over the past 2 years, Bayer has developed a systematic content strategy that has seen the creation and publishing of blog posts, articles, white papers, digital media including video and an entire social media presence that covers all major channels. Something that may have been an arduous undertaking via individual platforms, Bayer has been able to complete their stakeholder and audience engagement overhaul through epresspack's all-in-one software solution. Dominick concluded that epresspack's platform has enabled Bayer to enhance their reputation and build an audience through 'visual, professional and organic content resources,' while the dedication and attentiveness shown by epresspack have made them feel like 'our only clients.'
Dominick and Antoun's address at the IABC 2018 World Conference was a testament to the forward-thinking communications initiatives currently circulating the market sphere. epresspack is a proud participant and collaborator of such innovation and was delighted to share our expertise on such a great stage. https://healthpolicy.pharma.bayer.com/home/
For more insights on the changing trends in PR - download our white paper today!
{{cta('53018d37-3ba4-43e2-9f83-b50b439c3ce3')}}